Sheffield - The Factory: Age 18+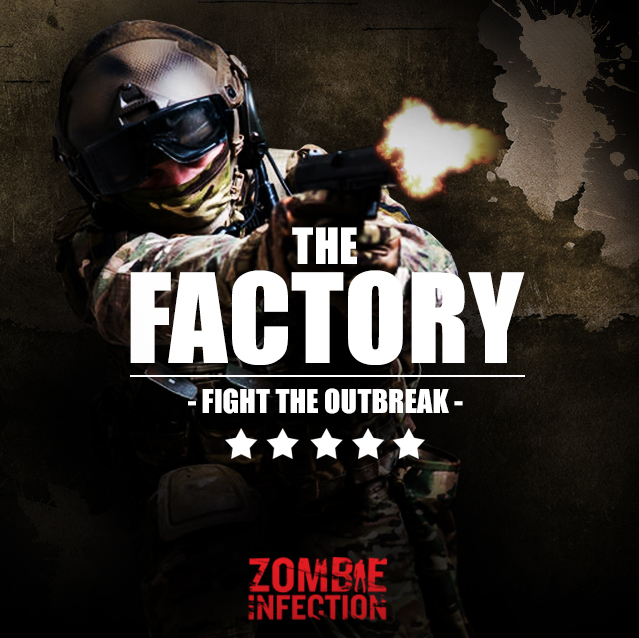 Durata: 3 Ore (aprox.)
Locatie: Sheffield, Sheffield
Cod produs: SHZI
- 3 Hours of award winning immersive entertainment in squads (6-10)
- Optional weapon upgrades (choose from 4 different strategic types)
- Set in a 180,000sqft 4 storey factory in the heart of Sheffield
- Free photos with cast and crew on survival as mementos
- Film realistic SFX zombies
- Limited dates available
- 18+ Only


Synopsis :- "The old factory, situated at the heart of Sheffield is a 4 storey former tools factory, office block and one of the few remaining buildings in the hands of the ZI soldiers. We need you to make sure this becomes a safe haven for civilians clearing the streets. The only problem? A Harvertech 'Alpha Prime' team were sent in to make an initial sweep, we lost contact with them 24 hours ago. We MUST find them and secure the building taking down any infected in our way. Do you have the tactical know how to help our ZI soldiers?

Where will you hide in this enormous abandoned factory, the main floors, the stairwells, toilets or workers offices. Will you venture across the sky bridge into the old administration block, or down to the dark, eerie loading bay? What is for certain, the dead will hunt you down so you'll need to grab your weapon (upgraded if you can handle it!) pick your squad leaders, work out your tactics and join the fight!

Known as the "home" of Zombie Infection our creative team have crafted a zombie experience like no other! Suitable for small groups or large stag parties its the perfect mission for any hard core zombie fan.
Please note this is 18+ only, late arrivals or guest arriving intoxicated may be refused entry. Eye protection will be provided for your protection and must be worn at all times.