Liverpool - The Asylum: Age 18+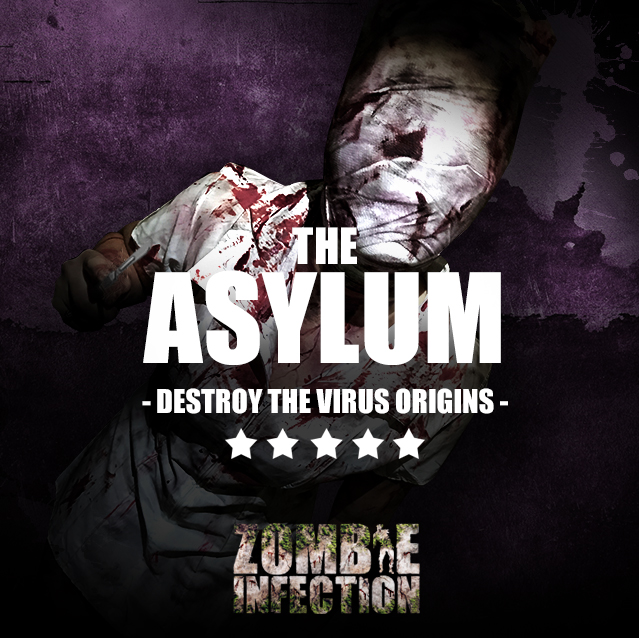 Duration: 3 Hours (approx.)
Location: Orphan Drive, Liverpool
Product code: LIZI
- 3 Hours of award winning immersive entertainment in squads.
- Optional weapon upgrades (choose from 4 different strategic types)
- Set in a 250,000 sqft ex famous orphanage/asylum in Newsham, Liverpool.
- Free photos with cast and crew on survival as mementos
- Film realistic SFX zombies

- Limited dates available
- 18+ Only
Synopsis :- "It is thought that this was the progenitor virus' birth place, abandoned soon after the outbreak; Intel suggests that a 'cure' is also on site. Harvertech's science division moved in at 13:00hrs and secured the perimeter. At 13:45hrs all communication had been lost – we anticipate multiple casualties to some of Harvertech's top brains. We urgently require teams of survivors to complete a number of important objectives within these walls – to enter the hospital, locate all vital information to lead us to the cure and return with the science team. One word of warning; when contact was lost we received information that this was not just a normal hospital..."

This location is as iconic as it gets for any zombie fan. You could not want any more in this 3 hours blockbuster of a zombie experience. This now Asylum ex orphanage in Liverpool is famous for its haunted corridors and stunning architecture! With multiple abandoned levels, dorms, medical wards, basements, kitchens and even a school you'll have the time of your life fighting the undead around every corner!


Please note this is 18+ only, late arrivals or guest arriving intoxicated may be refused entry. Eye protection will be provided for your protection and must be worn at all times.