Chapter 5 | "The Tower" - Liverpool Age 18+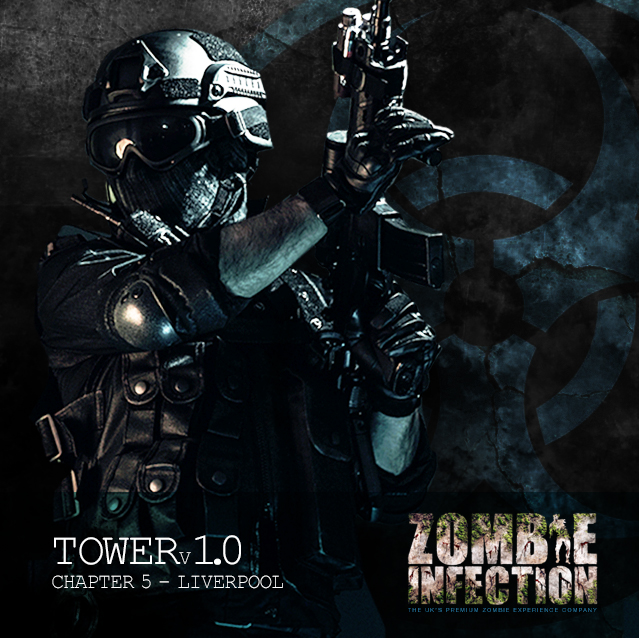 Duration: 120 Minutes (approx.)
Location: Liverpool, Liverpool
Product code: LIZI - MKII
Please note if you are redeeming a "Zombie Experience for Two" voucher please contact our admin team otherwise you may be asked to pay the full amount via our system!

- 2 Hours approx of award winning immersive entertainment in squads.
- Upgrade your weapon!
- Set in a 7 storey abandoned apartment block picked right out of 28 days later, Liverpool.
- Free photos with cast and crew on survival as mementos
- Film realistic SFX zombies
- Limited dates available
- Perfect for private events and special occasions
- 18+ Only

Synopsis "Harvertech, the firm responsible for the quarantined safe zones of the country, have been constantly under pressure to deliver better health care and support to the surrounding slums that still house lost and tortured souls... A faction known as the "Infection Rebels" have gather in numbers in a tower block not far from the city gates and invited the infected to join them. Recruits from the "Alpha List" a list of individuals in the safe zones who have the necessary skills to aid in the fight against the rebel scum are required to sign up and arrive ready for battle. The Rebels can not be allowed to enter the city..."

New from Zombie Infection comes "The Tower". This old apartment block has been abandoned for a number of years and provides guests with a unique experience. Think Die Hard, The Raid and 28 Days Later combined as you scale the building floor by floor fighting not only our infected but the Rebel forces gathering for invasion. Set over roughly 2.5 hours you'll be immersed from start to finish, you'll get to choose your equipment, upgrade your weapons and choose the right team for the job.

Perfect for large groups, private parties and anybody looking for an action packed Saturday of activities. Tickets are limited with just a few dates until the end of the year. So grab your places quick!

Please note this is 18+ only, late arrivals or guest arriving intoxicated may be refused entry. Eye protection will be provided for your protection and must be worn at all times.