Somerset - Zombie Training Academy: Age 12+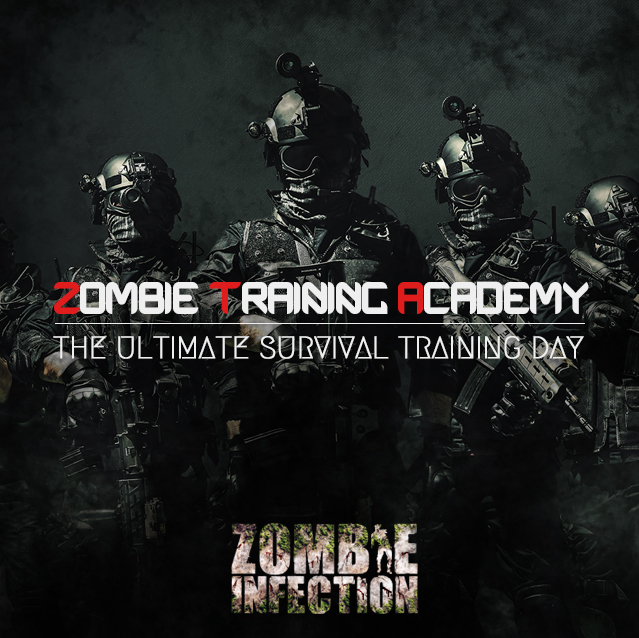 Duration: 3 Hours (approx.)
Location: Shepton Mallet, Somerset
Product code: ZASOM
Earn Your Stripes! The Zombie Infection Training Academy is here!
Zombie Infection are the UK's largest provider of award winning immersive zombie experiences across the country, our aim this year is to take things to a whole new level.
We've decided to launch our very own 'Zombie Training Academy'. Cadets will learn all the skills required to not only survive the evolving zombie virus but thrive in a post apocalyptic world.
Its the perfect event for team building, family days out or an exciting way to improve those survival skills!
So what's included across the 3 hour session?

Lesson 1 - Learn to Survive!
Our experienced crew will teach you how to survive against many different types of infected. They'll also workshop different ways to protect yourself, be it finding shelter, survivor groups or going solo! Our incredible prison venue is the home of our training academy the "ZTA" and its set up to really put you to the test. Once you learn the techniques you'll be placed in scenarios to test those skills! Will you last the trial and qualify for the grading!?
Lesson 2 - Learn to Fight
Weapons training? You got it. Tactical movement? You got it. We'll show you a wide range of tactical gear and weaponry to get any heart pumping. Throw grenades accurately, reload quickly, aim effectively. You'll be taught, then tested! Reckon you can pass lesson 2? We'll be asking you to show us what you got.
Lesson 3 - Become Your Enemy
Now its time to really understand how your enemy walks, talks and hunts! We'll show you how our experienced crew use SFX makeup to create the most realistic zombies in the UK. We'll get you made up like one of our undead, then put you to the test on the other side of the battle as you chase our experts round this multi-level facility!

Throughout the day you'll be able to mingle with other passionate zombie fans, talk to our experienced staff and participate in photoshoots. Its the ultimate zombie day out for you, your friends, family or colleagues. So sign up quick and earn your stripes!
Please note this event is suitable for 12+ however it will still contain imitation firearms, loud noises, scares and plenty of gore! Under 18s must have an adult sign a release form on the day.