Sheffield 2.0 - The Factory: Age 18+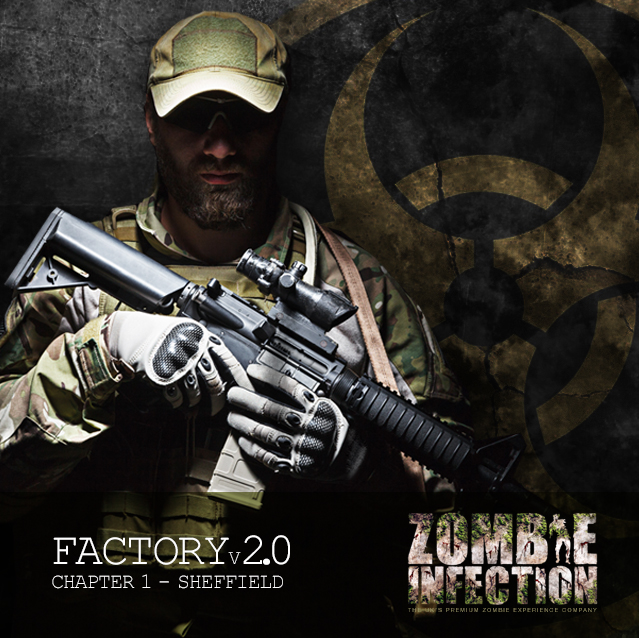 Kesto: 2 Tunnit (noin)
Paikka: Rotherham, South Yorkshire
Tuotekoodi: SHZI20
Please note if you are redeeming a "Zombie Experience for Two" voucher please contact our admin team otherwise you may be asked to pay the full amount via our system!
- 2 Hours of award winning immersive entertainment.
- Optional weapon upgrades, torches, lasers and sights
- Set in one of the oldest steel factories in the world, the famous Magna center is your playground!
- Suit up and explore Earth, Sky, Water and Steel whilst hunting the infected in this huge attraction!
- Free photos with cast and crew on survival as mementos
- Film realistic SFX zombies
- Limited dates available
- 18+ Only
- Book your place for just £20pp upon checkout! then pay the rest over time!
Synopsis :- "Its time to get civilians off the streets of the UK and into this magnificent building securely and its down to you! At a nearby Harvertech DPO (Defense Perimeter Outpost) has been sabotaged and thousands of infected have breached the outer walls of the quarantine sector. A team has been sent in to clear the area but lost contact on arrival. Its down to you. So jump in Alpha List Civilians and get the job done!"

Zombie Infection are proud to partner with the UK's largest steel works factory, now the famous Magna Science Center. This huge attraction has been preserved and built alongside to create what can only be described as a zombie fans heaven...

Take a look at the pictures, they speak for themselves. With multiple levels, tunnels, walk ways, bunkers, science stations, even an indoor blimp! You'll never know where two hours disappeared to.

This is truly one of Zombie Infection biggest and most incredible venues to date. Don't miss out.
Please note event concept subject to change, this is 18+ only, late arrivals or guest arriving intoxicated may be refused entry.