Basingstoke - The Complex: Age 12+ ST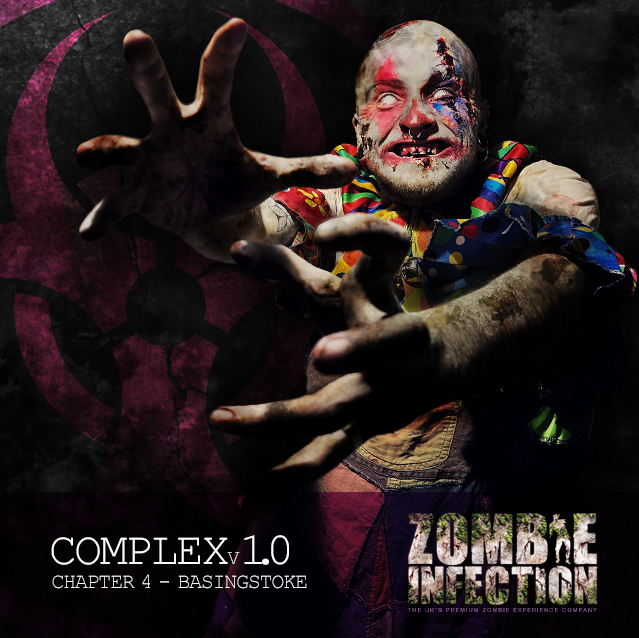 Duration: 75 Minutes (approx.)
Location: Basingstoke, Hampshire
Product code: CMZIST
Please note if you are redeeming a "Zombie Experience for Two" voucher please contact our admin team otherwise you may be asked to pay the full amount via our system!

- 75 Minutes of award winning immersive entertainment, meeting characters, shooting zombies and solving puzzles!
- Small escape room elements to test your brain and your skill
- Torch upgrades available
- Set in a leisure complex attached to Festival Place Shopping Centre
- Explore all areas including the soft play area, quarantined courts, gyms and a blood ridden spa all at night with just you and your team for guidance!
- Free photos with cast and crew on survival as mementos
- Film realistic SFX zombies
- Age 12+
- Max groups 24
Synopsis :- "Welcome to Harvertech's world class vaccination outpost. Previously a leisure complex this now Harvertech Institution will demonstrate just how the world's leaders in bio protection can help you protect yourself from infection. So they say... They should really have trained the new technician nurse Chase to make sure ALL quarantined procedures were followed! Last thing they need is an outbreak right in the middle of the Shopping Centre with only untrained wanna be hero civilians to save the entire country... Right?"
Zombie Infection are taking their Zombie Infection Universe to Basingstoke in this huge leisure complex. This massive building has some awesome character filled areas including a ball pit/soft play area (Research Coulrophobia...) A spa and pool area, lets just say that when we get to use wipe clean floors be prepared for blood, lots of blood... and a huge gym of course full with undead fitness freaks!
This event is going to be a massive amount of fun placing a real twist on the other events we have across the country and fits perfectly into our timeline of apocalypse events. It will include everything we've come to expect from our award winning team such as improvisational theatre from live actors, top action, smaller escape room elements and movie quality realism over an adrenaline fuelled zombie frenzy.
Bring your wit and intelligence as you'll tackle elements that require more than just fire power! You'll need to work with your team of survivors to stop the virus from hitting the streets what ever the cost...
But don't worry, we wouldn't ask so much of you without some help! Grab the latest weaponry, upgrade it and keep your guard up as you take on not only the amazing venue but the deadly infected around every corner!
If you manage to survive you'll get to meet the cast and crew, take photos and discuss survival techniques with your fellow team mates! This event is an exclusive experience and will have limited dates available.

Please note this is 12+ under 18+ Must have a guarantor to sign them in on the night. Late arrivals or guest arriving intoxicated may be refused entry.