#i70 'Zombie Checkpoint' Immersive Experience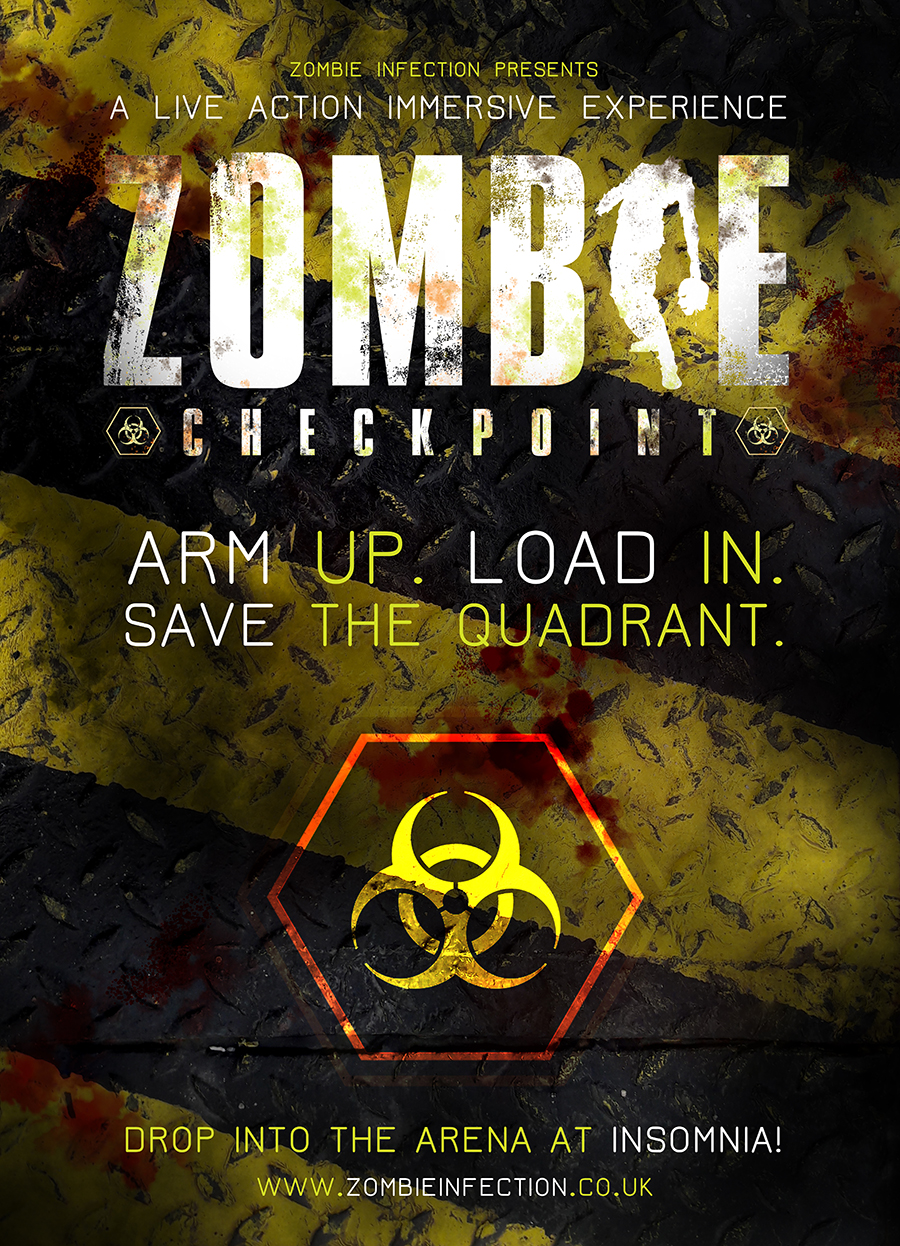 Kesto: 30 Minuutit (noin)
Paikka: Birmingham
Tuotekoodi: IGF70
Welcome to Zombie Infection - The UK's Largest Provider of LIVE Immersive Zombie Experiences!

It's time to get your squad, clan and mates together to see if you have what it takes to put those COD skills to good use in 'Zombie Checkpoint'.

Zombie Infection have been running immersive zombie experiences for 7 years placing thousands of guests in 2 hour blockbuster events across the country. This year Zombie Infection and Insomnia Gaming Festival have teamed up to bring a taster of these award winning live experiences to i70!

So it's time to make the drop, arm yourselves up and aim for the head, this is a mission you can not afford to miss!
PLEASE NOTE - You must have a valid entry ticket for Insomnia Gaming Festival that matches your zombie experience date in order to take part. All ticket sales are FINAL and are non-refundable.Tickets for the main i70 show entry can be purchased here -
insomnia.seetickets.com/tour/insomnia
Our hordes of live zombie actors are hungry and ready to go! If you are a game, film or action fan then this experience will tick all your boxes. Here's what you'll get up to!
Two squads will battle it out to become King of the Hill in a LIVE experience! You'll have to find codes to unlock your team's anti-virus crates before the timer hits zero and the whole world becomes infected!
Live SFX zombies will make your task a daunting one as they hunt you across our unique CQB game zone.
Each participant will arm themselves with one of Zombie Infection patented "Railguns". These systems are specifically designed to take down the infected!
Fancy some additional help? Upgrade your rifle with a torch and laser sight for additional accuracy.
The game will end with a final "Show Down" with the winning teams getting a victory picture in our "i70 Hall of Maim!"
Limited edition t-shirts and merchandise available... if you survive that is...


Adult Survivor Ticket (15+) - £15pp

Young Survivor Ticket (under 15) - £12pp

Upgrades - £5 per system
The experience will span across a 30 minute mission approximately*. Sessions will run every 10 minutes from the 7th - 9th April 2023. Tickets available on the day but we recommend booking your time slot now to avoid disappointment. Choose your date and time from the booking calendar and then add your upgrades on the next screen!

We can't wait to eat....errr we mean meet you this August! Head over to our social channels below for the latest news, videos and sneak peaks. If you have any questions use our Facebook page or contact our bookings team info@zombieinfection.co.uk!
Facebook - @zombieinfection
Instagram - @official_zombieinfection
Twitter - @infect_official
Twitch for our live streams - Twitch.tv/zombieinfection
TikTok - @official_zombieinfection

Please read our Terms & Conditions very carefully!
1. Guests are not allowed to take part if under the influence of alcohol. Zombie Infection have the right to refuse entry if we feel you are not in a physically or mentally fit position to take part. No refunds available.
2. This is a full contact experience, our SFX team are trained to make contact in a safe way. Participants are NOT allowed to make contact with our team under any circumstances. Anybody found doing so may face criminal charges.
3. All ticket sales are final and are NON REFUNDABLE. If you are unable to attend for any reason or are refused entry we will NOT be able to refund your tickets.
4. The event will include loud noises, flashing lights, pyrotechnics, smoke and adult content. It is not suitable for guests that have liquid latex allergies.
5. Guests under the age of 12 must be accompanied by an adult.
6. *Show times are approximate and may depend on how the game plays out.
7. The full participant experience is unsuitable for wheelchair guests. However we will always attempt to make some sort of experience possible as best we can.
8. The experience is not suitable for pregnant guests.